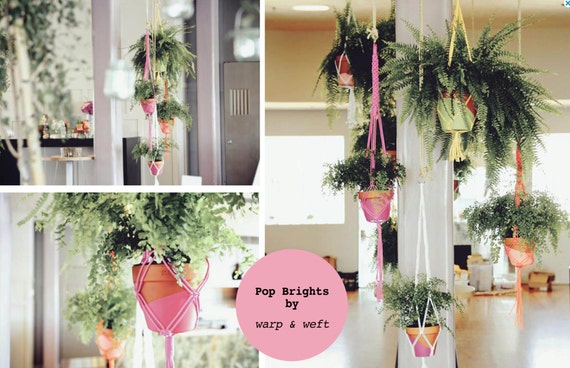 If you hadn't notice, macrame is big right now - particularly macrame plant hangers. Someone who has mastered the art is macrame queen Charlene Spiteri of warp & weft who perhaps was inspired by her childhood home which was full of knotted wall hangings and planters. Far from 'nanna craft' Charlene's hand knotted pieces are modern, stylish and colourful. I particularly love her unique macrame pendants. Intrigued by the name

warp & weft, Charlene enlightened me it was inspired by weaving terminology -

'Warp refers to the strands of yarn positioned on a loom length ways, while 'Weft' is the direction yarn is placed into the warp, horizontally then interwoven together to create a textile. Specialising in both macarame and woven pieces which are all meticulously handmade by Charlene from her Melbourne, there is something about the them which just seems cheerful. If you're looking to inject a little fun and colour into your interiors I think these are ideal - particularly the hangers filled with a lovely cascading plants. You can find Charlene's full range here or get in touch to commission a custom piece.
How would you describe yourself in five words?
Passionate, vocal, creative, meticulous, generous
What was your childhood dream?
From a young age I always had this vision that I would see my future involving some creative element. My family and extended family were all in the design field so having this exposure gave me inspiration.
I actually thought I would follow my dad's footsteps and become a designer draftswomen as I recall drawing my future home on paper; creating interesting spaces and room layouts. It turns where my parent's were born, is well known for making textiles pieces dating back to BC. My intrigue and interest in this is where textiles played a big role for years to come.
What led you down your current path?
After studying textile design with honours I fell into the textiles automotive field by coincidence. After years of being in the automotive business as a creative designer for Ford and Holden, I really wanted get back into making products by hand, so I started creating my own hand woven cloth for a few years selling these through markets. I then decided to venture into other areas of textiles and really wanted to explore macramé. After learning the knots/techniques, which came really easily to me (I think having a weave background may have helped!) I started to make pieces for myself and from here my pieces gained lots of interest.
What do you love most about what you do?
I love the creative element, being able to work with various materials; having that tangible piece, a connection to something that I have created. Macramé requires the basic of tools - rope, knot techniques and your imagination. I love being able to design something and see the end product in a home. That gives me so my joy!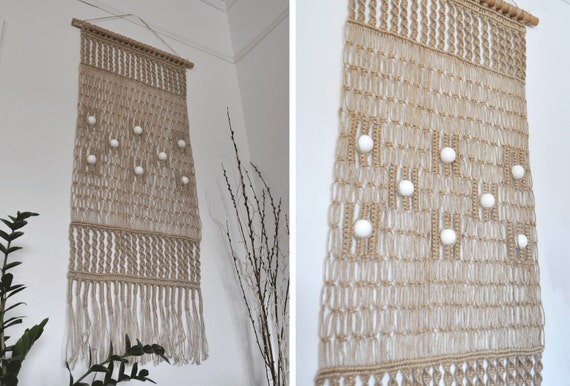 Where do feel most inspired?
Inspiration for me has no restrictions. It can come from the most unusual places and can also come at a whim. I do a lot of thinking and drawing which is typically how my ideas are triggered.
Who do you admire?
Other like minded designers like myself who have gone off to create their own labels and do what they love. Mara Kapsis who creates stunning hand printed textiles and Amy Wright from Wunderplant a floral artist and stylist. Two amazing women...
What challenges have you had to overcome?
The time versus cost. It's always hard to put a value on a handcrafted piece when it has taken hours to create.
What's been a 'pinch yourself' moment?
Creating a custom macramé piece for a Levis Store in Malibu in the USA.
It all happened very quickly and next thing I'm making two overly large pieces for a retail store display with two weeks lea time. It was my first commercial piece and was proud to carry an 'International' name. Also recently became featured in Stylesight interior trend report….
What are your top inspiring resources?
Book - The natural home.
Music – David Bowie, China girl.
Do you have a dream creative project?
Creating a large macramé installation for a venue event and creating a series of unique macramé art sculptures for gallery open.
What are you currently coveting in the world of design?
Beyond traditional macramé. Venturing into lights & taking macramé one step further, into 3D printing.
What's next?
Fitting out my soon to be renovated home studio.
When the weekend rolls around what do you love to:
Read – Trend reports.
Watch-

My crazy cat chase objects.
Cook-

Scrambled eggs on toast.
Create- New macramé ideas.
Listen to- Tropical rainforest sounds.
Dream about-

Fun and happy moments.
Look forward to-

The future.